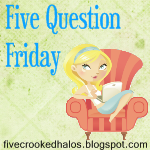 Ok it's that time again ladies...time for 5QF with
Mama M
so all of you head on over to her place and grab you some questions!! Yeeehaaaaaawww!!
1.
What do you think makes a good friend, or friend
ship
?
Wow this is a good one especially since moving around so much in life actually makes it harder making and keeping friends. I think like any relationship friendships have to have certain elements to survive. Trust, empathy, forgiveness and a great listener are the first things I look for in someone to make a good friend. Now that being said being in the military has it's own issues with friendships like looking out for those who are just your friend for certain reasons and trying to be careful to find people who not attempt to use the friendship to make themselves look better. I don't care who your husband is or what rank he is because that has nothing to do with me or my friendship!! I think that friendship has no rank and we all should learn to just be a friend no matter what.
2. What is the last thing you bought & later regretted?
OMG I could fill a page answering this one! Who hasn't bought something from one of those dang traveling sales people(encyclopedias..worthless) or gotten caught up by an infomercial one time or another. I have bought so many things that were so not worth it but I think the biggest was when we got talked into buying our Pontiac Bonneville..omg that car was a piece of crap and stupid of us to buy it knowing we were trading in our Pontiac Sunbird because it has too many issues and was barely a few years old..duhhhh!!!!
3. Have you ever had a prank played on you?
All the time!!! Have you met my family?!!! Goodness they love to do stuff like that and I was usually the butt of all my brothers jokes.
4. What is your favorite theme park?
Oh wow I have been to so many and still have quite a few to make it to but I think I will have to go with Legoland,California for right now. I haven't made it out to Legoland,Germany yet but it is on the agenda for the summer..waahooooo!!
5. Have you ever seen someone else give birth?
Ummmmmm NO!! I didn't want to see myself giving birth why in the world would I want to see someone else giving birth?!! Yuuuuuuck!! I am not one for wanting to see anyone else bodies without clothes on....can you say unnnnncomfortable!!
Ok so those were some fabulous questions! Now head on over to Mama M's and get moving on your own folks!!