OMG I can't believe it is Tuesday already..where in the heck did time go?!!! I have been a little absent sorry but things here just up and got crazy I tell ya!! CRAZY!!!! Whooaaaaa nelly am I a busy woman right now with the girls back in school, PTSA stuff going on daily, after school acitivities in full force and private lessons starting up again this week..I said busy right?!! *sighhhhhhhhhhhhhh* Ohh to be young and have nothing to do right?!!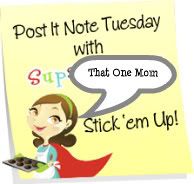 Today's post it notes is with a new blogger and I am very happy to introduce you all to her! She got the Post it notes so of course she must be fabulous!!! Click that button up there and go check her out and while you are at it you might as well grab ya some post it notes and join on in!
Pissy? just a weeee bit!! Tired? omg yes!! Post it note lover? Heeeeeeeeeck yeah!!!! So go on over and get your post it notes on and join us all as we let it aaaaaaaaaaaaalllllllllllllllll hang out!!!!
Ciao!