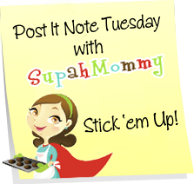 Yay it's that time again so grab a cup of coffee(or whatever is your fav) and whatever you do please try not to spit any liquids out on the screen it really is a mess to clean up!! Read on my lovely readers you.....
hurt someone
find another type of wine to substitute with.
Have a great Tuesday and please don' forget to go click that button up there and check out Suppahmommy and her fabulous blog!!