Oh dear lord I am so happy that Friday is finally here! I was so stressed out about this whole week and everything that I had going on with it. My week is hardly done but atleast I made it to Friday..Yay me!!
Thank you to everyone who wished me Happy bday yesterday..you guys are the bestest!! As far as Mr. M goes he totally made up for the crappy morning I had yesterday and took me to my favorite restaurant with one of my favorite people, Mrs. Jamiacagirl! On top of that I had so many friends that called to wish me happy birthday yesterday and I received oodles of gift cards for Java..woot woot!!! For those of you who don't know Java is like our Starbucks over here and I am such a frequent customer that I don't even have to order anymore they just start making my coffee when I walk through the door..it's like my Cheers and I am Norm!! Love it really!! So my coffee addiction is taken care of for a few weeks and I made it through the day without hurting anyone...I call that a great birthday!! :)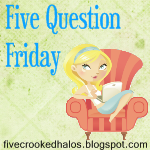 Now let's get to the fabulous
Mama M
and her fabulous Friday 5 questions...
1. H
ow many pets do you have?
We have 2 cats right now, Tiger and TJ. It is wierd because we have always had a dog and a cat but we lost our beloved daisy a little while before we came to Germany and we just haven't had the heart to get a new dog yet.
This was our dear sweet Daisy! RIP girl!
2.
If you could switch places with anyone in the world for one day, who would it be?
For just one day I would love to be Oprah!! Ok seriously ya'll who wouldn't want to know what her life is like on a daily basis?!!
3. What is
your favorite money saving tip?
Hmmmm I have so many tips that I have been given or discovered on my own and use them every day. I guess my best one would be to never buy anything on impulse! If you want it then take the time to think about it first and if you really need it and if you can afford it and if the answer is still yes after all of that then by all means go get it! This has saved me numerous times from buying junk I don't need or really want even.
4.
What do you want your kids to be when they grow up?
My only wish for my girls is that they find a man who will treat them like they are the world! I would love for them to both have fabulous jobs and great families but the most important thing to me is just that they be happy!
5. W
hat is your favorite quote?
Ohh wow I have a few of those that I repeat daily to either myself or someone else if need be. I guess I would have to say the one I say over and over daily to myself is "do unto others as you would want done unto you"! It's all about how we treat others as to how we are going to be treated and I absolutely feel that if you smile at someone no matter who they are that they in turn will do the same without even realizing it. Yeah yeah I am all about making the world a better place so get off my hiney!! :)
Ok now ya'll go grab your button up there and get your questions on!!! Did I tell you how fabulous I think Mama M is?!! She really is so go check her out and while there tell her I sent ya! Can't hurt to have a little more traffic on my itty bitty blog right?!! *grins*