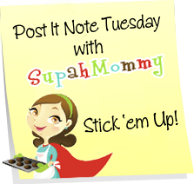 Yayyy it is that time of the week where we all get out our post it notes, write to our little hearts content and then sift through each others and laugh our little tails off!!! Now doesn't that just sound cute and fun?!! :)
Ok ok enough suspense so here are my post it's for the day....
Now head on over to
Supah's
place and get in on all the post it fun!!! Have a fabulous day ya'll!!