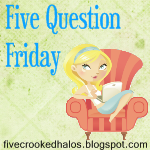 1. Do you open presents on Christmas Eve or Christmas Day?
Since Mr. M's family always opened up all of their gifts on Christmas Eve we made it a tradition that any gifts from his family could be opened up Christmas Eve and all other gifts are opened up Christmas morning. Since we never live near family this has just stayed the same, but I am sure once we move back closer to all of our family things will be changing.
2. What is your favorite Christmas cookie (or candy)?
I would have to say without a doubt.....Fudge!!! MMMMmmmm I loooove fudge!! It also happens to be one of Mr. M's most favorite things that I make so I guess that doesn't hurt it's appeal either. :)
3. What's the worst Christmas gift you've ever received?
Ok so I am sure that there will be a bazillion other people who say the same thing and that is....underwear!! What parent ever decided that a kid would actually get excited about opening a package of underwear on Christmas morning. I am also including long underwear in that. If your kids need underwear people please don't wrap it up and stick it under the tree it's just not nice!!
4. Christmas song that you love?
There are so many songs I love it would be near impossible for me to pick just one. I have always loved "Noel" and "silent night" and one year when Mr. M was gone for the holidays I fell in complete love with Mariah Carey's "miss you most at Christmas time" it's a beautiful song and I must have played it 200 times a day every day while he was gone. Don't judge....for real you would do it too!!
5. H
ow many trees do you put up?
Ok ok this is a fabulous question!!! Now if I had it my way we would have a tree in every single room of the house....again don't judge ya'll!! There was one year when we were living in a big beautiful town house and had tons of room and so I did have one in each of the girls bedrooms, one in the master bedroom, master bathroom, living room, dining room, kitchen, front porch, back porch and front foyer. It was the best year ever and Mr. M thought I had lost my mind....still not judging right?!! :) Anywho for all of you animal lovers out there we did have a tree decorated with strung up pupcorn(dog treats that look like popcorn), milk bones, dingos, and peanutbutter treats. As well as a smaller tree that had catnip, cat treats and bells all over it. Let's just say we think our animals deserved their own trees as well.
Ok so I have to tell you a story about the dog tree since I am talking about it....we had a 12 yr old Dutch shephard named Daisy and 2 cats. One of our cats,Tiger, thought she was a dog and always hung out with Daisy and slept right next to her. So when we put up the dog tree and the animals figured out what was on it they formed a team in order to get everything off the tree. Tiger would go over to the dog tree and knock off the bones and pupcorn so that Daisy could eat it. Then in return Daisy would play with the cat toys with Tiger until they knocked them off the tree. It was the sweetest, cutest thing we had ever seen any animals do and I will never forget that.
Ok so you got my Friday questions and even a super cool history lesson about me and my crazy animals. Yay for you!!! Now go click that button up there and get your own questions on!