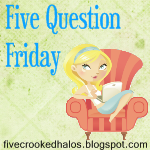 Ok I have to start today by saying...THANK GOODNESS IT'S FRIDAY!!!! This has been a crazy, bad weather having, totally worn out week and I am sooooo glad it is over!! We have a busy weekend ahead of us but I could really use some down time and a nice friend to chat with wouldn't hurt so bad either. Anyone want to volunteer to be my friend?! Haha just kidding! I have friends here...sometimes...somewhere...ok ok I do..I think!!
Now go click that button up there and get your questions on!!
1.
Would you rather be on ABC's Extreme Home MakeOver or TLC's What not to Wear?
Well since we don't own our home and are currently living in government quarters I would say...neither!! There is no way I would go on some show so they could tell me I am frumpy and sad looking...heck nahhhh!!!! I know I dress frumpy on some days but really...I don't care!! If it is cleaning day or dirty errand day then heck yeah I am wearing sweats and a t-shirt so deal with it because I could care less what you think of me! So there!!
2.
Do you have any tattoos?
Ummmmmm let me say this nicely...HEEEEEEEECK NOOOOO!!! Why anyone would sign up to pay someone to cause them pain is waaaay beyond me!! I have had enough needle pokes in my life that I had no choice about I am sure as heck not going to pick to have it done to me on purpose let alone pay for it to be done. Mr. M has some and I say he is nuts..nuts I tell ya!!
3. D
o you tell your kids about things you did growing up?
Yes I do! What kind of a parent doesn't use their life experiences to help teach their kids. Telling my daughter about the time I walked around school half a day with my gym shirt wrapped around my waist because I ran out of cotton ponies and leaked all over my pants and couldn't go home until lunch time is a very good way to tell your daughter to..1. always have extra ponies on you at all times and 2. everyone has their emberassing moments and lived through them!
I know you really wanted to hear that story..ha ha sometimes I just love to shock!
4.
If the traffic signal turns yellow, do you stop or speed up?
Ok this is a tough one because well you see...here in Germany the lights are a little different. The lights so from red to yellow to green to go and you are allowed to start going when it turns yellow before green. Then of course they go from green to yellow to red but here once that light turns yellow it goes red super duper fast! There is also of course the rule that if you get a ticket for running a red light over here you lose your liscense for a year and I am sure as heck not doing that!! I like to drive myself and not have to depend on anyone so yeah I guess what I am saying is..Yes, yes I stop for yellow lights or I go depending on which yellow light you are talking about.
5. What's your preference: c
hocolate or chips?
Oh definitely chocolate covered chips!! HaHA bet you didn't see that one coming now did you!!??!! So really have you ever had chocolate covered pringles?! OMG they are sooo good! Now honestly I almost never make them except for special occasions or the girls really ask for them and then I only make enough for them and leave it at that. I could eat a whole tube though by myself..for reals!!!
Ok I hope you all have a fabulous weekend and try to make someone smile today just for the heck of it!!