So I am always eager to meet more milspouse bloggers and only wish I had time to visit them all every day. I can tell you that I try to visit as many as possible and leave comments always because...comment rock duh!!
So one blog that I follow recently told me about a military blog hop they do so I was all excited to have the opporunity to join it. Here is the button if you would like to join in yourself..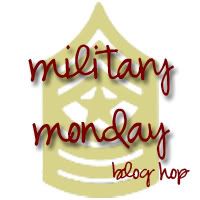 Of course there are rules...I did read that correctly hopefully but really the only rules are to follow people and meet new bloggers..how easy is that!! For reals!!
So here is to trying something new...Cheers!!
If you are new to my blog you can go and read the all about me section...hmmm I have no idea when I last updated that so I guess I should do that now huh?! Ok ok stop barking at me I will....as soon as I have time!!