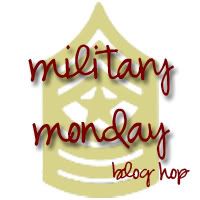 Ughhh it's Monday again!! The weekend was fabulous but man does it go by too fast. I will have a few pics to show you this week once of course I grab them off my camera...don't hold your breathe!! No. Really. You just might pass out before it even happens ya'll!! Ok so today I am doing the military Monday blog hop. It's actually quite fabulous because the only rules are to follow others and have a good time..how flippin' simple is that right?!?! So click on that button up there and let's have some fun meeting new people.
For those of you new to my blog:
Welcome, welcome and please make yourself at home. You are welcome to browse around and you will discover that my blog is a mix of pretty much everything. I am a 30-something woman, married to an Army man for 16 years and we have 2 beautiful girls. DD1 is 13 and DD2 is 7. They make my life worth living in everything they do. We are currently stationed in Germany and loving it. We travel as often as we can and love all of the opportunities we have been given here. I write about our travels, crafts, organizing, military life, being a mom, being a wife, and pretty much anything fabulous you can think of. Oh and btw I have my own language but stick around long enough and you will figure it out along with the rest of my fabulousness!! :)
As always follow me and I will return the favor. Stop by for coffee anytime or daquiris which are only served on Friday nights.
Everyone have a fabulous Monday and rest of the week and I will be back tomorrow with some pics and some post its!!