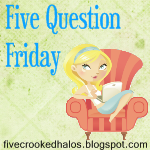 Yayyyyyyy it's Friday, it's Friday, hallelujah it's Friday!! This week has been crazy, frustrating, annoying, long and extremely draining and I am so so so so sooooo glad that Friday is finally here. So I know I said like a few days ago I would get you pics but thanks to a
catastrophicly horrible
minor computer glitch I had to retake all the pics and I did them today...see how much I love you guys?!?!??!!!
So first the questions that make you go hmmmmmm.....
Ok so you have seen some pics and sorry about it taking so long. I hope all of you have a fabulous weekend and I will be back next week for more bloggidy blog fun!!