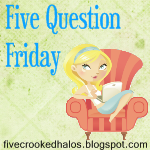 Well I made it to Friday and not only that but how sad is it that I just remembered today is my birthday....duhhhh!!! We have a very busy weekend planned and when I say we of course I mean myself and the girls because Mr. M will be getting on a plane to go to another school. I am glad that he is trying to beef up his resume with all these schools but what a crappy weekend to have to go away.
Oh well we will still have fun without him and take tons of pics to show him when he returns some time next week.
Ok so now let's join Mama M for some questions and get this weekend started...
1. Did you make any fun purchases this week?
All week I have been getting ready for a community event tomorrow and getting the girls ready for school. Fun purchases..hmmmm. I did buy a new set of colored sharpies!! Does that count?!?! I loooove sharpies!!
2. If you could go to any musical concert, what would it be?
Oh this one is so super easy for me...Josh Groban!!!! I would just die to see him in person!!! sighhhh...swooon**
3.
What is your least

fav

/ most

fav

house chore?
My least favorite house chore is definitely dishes...yuuuuuuck!!!
My favorite house chore would have to be organizing. I love love love to organize and do it so often that Mr. M said I am OCD with it. I am not one of those people who lives in an emaculately clean house, clean yes but not emaculate so don't flip out on me and call social services ya'll!! I do however feel so much better when everything is in it's place and organized.
4. W
ould

you prefer new appliances or clothes?
Well that one is tough for me right now simply because we are living in Europe and so although there are tons of new appliances I need or want right now I will not buy anything until we return stateside because I don't want to run them down by running them on transformed outlets. So for right now I would have to say clothes even though I would much rather have new appliances.
5. Miracle Whip or Mayo?
OMG Mayo all the way!!! When I first met Mr. M he was a miracle whip man and I pretty much told him not in my house buddy. He was sad for a little while but then decided that I was right and mayo is better!! Haha I love it when he admits I am right!! :)
Ok now jump on over to Mama M's and get your Friday started with fabulous questions!!!
Have a grand weekend everyone and see you all after the weekend is over and I have time to think..er type...er concentrate on anything else!! Yeah yeah that works!!
Ciao!!