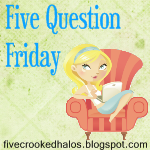 1. Have you ever had a celeb sighting?
We went to CA to visit our dear friends who live in San Diego(my dream place to live). While there we went to Rodeo Drive just because...well ok I am a shopaholic and where else would a shopaholic go in LA..and while there we did see Ashley Tisdale shopping. OMG yes I did just say it and at the time I was so excited in a stalkerish type of way!! haha
2. What temperature do you keep your house?
Ok well currently we are living in Germany and there is no central heat/air here. So the temperature is pretty much whatever the space heaters allow us to be or else the fans in the summer time! Yes in case you are wondering it does get uncomfortable at time but we deal with it for the experience.
3. Do you notice dust at other peoples homes?
Sometimes I do if it is in your face. Like I said no central air so we all open our windows in hopes for a breeze so I am sure dust is everywhere here, but I do notice if it just way past the "I didn't have time to clean this week".
4. What's the worst job you ever had?
Ok well I would have to say hands down that it was working as a secretary in a real estate office. Yes I was a teenager but they treated me like a servant not just a worker. I was miserable and paid them back by not showing up on a day I knew they needed me..spiteful..yes..loved it..absolutely!
5. What is your most sentimental possession?
I would have to say the ring Mr. M bought me a few months ago when my lil bro passed away. We flew back to the states and I was having a really hard time trying to figure out how to say goodbye to him and so Mr. M bought me a white saphire ring(saphire was his birth stone) and I wear it whenever I think I need some inspiration or am just thinking of him.
I do have to say though it is a close tie with a gold bracelet that Mr. M bought me while he was on his first deployment for our 6 month anniversary. It was a surprise when I got it in the mail and it just made me feel so loved then and now.
OK so that is the Friday questions for today! Click the button on top and start your own 5 question Friday with us. I love the questions and it's nice to share things this way.