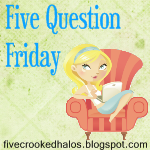 So it's Friday and means 5QF with Mama M.
1.
What was the first car you owned?
My first car was an Isuzu Impulse..I loved that car and I had it for about 4 months until I wrecked it and then my parents decided maybe a sports car wasn't the best thing for me and gave me a Honda Civic..ewwwwww I hated that car it was so not cool!! LOL
2. What song are you embarrassed to know the lyrics to?
Hmmmm...I would probably say "If you seek Amy" by Brittney Spears...I like the song but do not like the message.
3. Have you ever had stitches?
Yes several times... 2 different knee surgeries and 2 babies(c-section stitches and 4th degree tear stitches)
4. What was your first job?
I guess my very first job would have been working at the Mother's Day Out with my mom. During the summer we would go help her out in some of the classes and she would pay us some measly sum of money(oh yeah I resented it and wanted to just be at home in the pool).
5. Who is your favorite Sesame Street character?
I would have to say Elmo!! I love Elmo and was so upset when we missed them coming here last year. Elmo is so cute and cuddly and I just can't resist his laugh..I would totally play with my kids tickle me elmos and they would get mad at me and ask for him back!!
Ok so there they are..now go over to Mama M's and join up for yourself!!
Have a great day everyone!