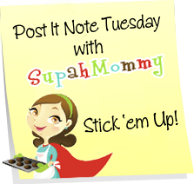 It's that time again friends...head on over to
Supah's
fabulous blog and get in on all the fun!!! You know you want to so just stop telling yourself you don't want to do another follow day and get over there...right NOW!!!!!
Ok so now you all have heard my madness
totally insane and so true babble
so click that button up there and get your Post it note's on!!!!!