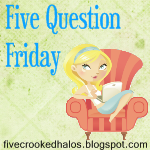 Yay I am so flipping happy that it is Friday again!! Looking forward to the weekend and we have so much going on that I am sure my next post will be filled with pics and happenings to delight all the masses. I haven't forgotten about my giveaway either just trying to find the time to do it. I truly do cherish all my followers and readers alike and will open up the giveaway to anyone really who is interested in winning some Polish pottery...ohhhh blast it I gave it away!!! Me and my mouth..errr hands...err fingers...oh anywho it's out! Well now you know what the prize is so keep checking back to try and win it.
Now onto the 5 Question Friday..
1. If you could go back to college would you change your major? Or, if you were to go to college right now...what major would you choose?
Ok well I started college with one major and then decided it wasn't for me...ok ok it was hard ya'll!! I didn't like all the work so I quit that and went for something I thought was a bit easier. So I started out doing Interior Design and ended up with a degree in Business Management. Really..have you ever tried to memorize every type of material?!! It's flippin hard!! LOL
Honestly though I wish I had stuck with the Interior Design because now it would have been easier to find a good job with that degree.
2. What do you love most about your home?
Well this is kind of hard for me simply because I move constantly and have different "homes" all the time. I guess I would have to say the thing I love most about my home is that I can unpack my entire house and have it set up in less then 24 hours..now that is a total mil spouse trick!! LOL
3. What types of books do you like to read (if you like to read at all)?
I used to love to read romance novels and had tons of them but with all the moves I have now moved onto my ebook reader which I love and my tastes seem to have grown up with me as well. I read a lot of biographies and a lot of how to books now. I still enjoy a good romance every now and then though but mostly I wait for the movie...they always seem to make a movie with the really good books!
4. What is the grossest thing you've ever eaten?
Hmmmmmmm well I guess that would depend on what you consider gross really. I have eaten snails and clams and oysters and didn't care for any of them but don't really consider them gross. I had calamari once and hated it! I think I would say though that the time my friend took me to a fish market here in Germany and asked me to close my eyes and try something I was dumb enough to do it and ended up with an octopus tentacle suction cupped to the roof of my mouth..not fun and it was definitely gross!!!
5. If you HAD to be a character on a TV show, whom would you be?
OMG this is going to be hard to pick just one. I mean I always try to fit myself into atleast one character in any show I have ever watched. Like Sex and the City--I am totally a Charlotte..Desperate Housewives--I am Susan....Everybody loves Raymond(Alles lieben Raymon in Germany)--I am definitely Deborah. I could go on and on but I won't bore you with all of them.
Wow those were some fabulous questions for this Friday!! I hope all of you have a fabulous weekend. We are jammed once again with a river cruise, of course SATC2 movie, ballet rehearsal and recital, community yard sale and hopefully some time in there somewhere to relax and take a load off. So all of you have a great weekend and I will see be back to blog all about our fun filled weekend as soon as I can.
Ciao for now!