Yayyyyy it is Friday and I can not tell you how happy I am right now that this day has finally come!! In one way I am ecstatic for the weekend to begin and in another way a little sad because a friend of mine is going away for 2 weeks on vacay..sniff sniff!!! I am so happy for her and her fam for getting to go to the States and enjoy a fabulous week in Jamaica but I am also jealous as all get up that I can not go with and hit the outlets for some serious school clothes shopping! I have been spoiled that over the past 6 years we were within an hour of a few different outlets and school shopping was fun! Now I do online and a few IRL stores but mainly it is boring click, add to cart and check out stuff..booooooooooooooooooring!!!! I miss my outlets..especially the gap,guess and children's place..sighhhhhhhhhhhhh!! Ok enough whining now....today is Friday..hip hip hoooorah!!!! That means another edition of 5QF with Mama M. Isn't she the bestest!! Yes that is a word..deal with it! So here goes folks...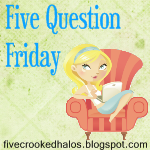 1.
Do you collect anything?
Ummmmmm I collect a lot of things. Since being overseas I started collecting Polish pottery, crystal and knick knacks from different countries. I have always collected bears all my life and a few years ago started collecting eggs. Any kind of eggs, crystal. pottery, material...seriously anything. I can not explain it but I adore eggs. Something about an egg..it's like it symbolizes the beginning of life and adventure and I just think that eggs are beautiful!! Call my crazy but that is my passion! Ok don't flip off my page now we all have our silly little quirks now!!
2. Name 3 celebrities that you find good looking.
Meg Ryan, Sarah-Jessica Parker, Jennifer Love-Hewitt All gorgeous and all down to earth women who have it all!! Love them!!!
3. Do you have any scars? If so, what's the story behind it (them?)?
I have a few scars..1. a small burn on my left knee cap from leaning over my dad's hot motorcylce engine when he said not too..oopsie!!
2. I actually have one gigantic scar on my left knee and it is actually 2 different sugeries I had 1 year apart from each other because I had an infection in my bone. The first surgery was the summer before I started 5th grade and the second one was during my 6th grade year. The worst part of that one is the second surgery they left the skin open to heal since they had not gotten all the infection out the first time so it is a HUGE nasty looking scar right next to the very small one I like to refer to as "the doctors mistake"! LOL

4.
What is a food that you like to eat, but others might think it's gross or weird?
Ok well for a long time my family thought I was crazy because I could put Ranch dressing on almost anything. Seriously I love it on burgers, sandwiches,fries, onion rings, popcorn, pickles, olives, most types of meat and cheese and of course pizza!! yummmmmm!!!! Wierd maybe,,gross maybe...yumm definitely!!!
5. Have you ever seen a tornado in real life?
Hahahahahahahahaha Ok I grew up for most of my life in Oklahoma..do I need to say more?!!!! Tornado alley folks and yes I have seen and lived through a few..hundred..thousand in my lifetime!! I actually think the best one I ever saw was when we lived in Colorado and we watched on touch down on the Rocky Mountains and it was the coolest thing ever to a kid watching trees be lifted off the side of the mountain and thrown!! Oh yeah I was a cool kid...don't hate!!!
Wow fantabulous questions today!!! I hope you all enjoyed finding out new things about me and now go on over to Mama M's and get in on all the Friday fun for yourself!! Please don't forget to follow her as she is absolutely fantabulous herself..I mean I follow her so that should tell you she is FAB!!!
Have a great weekend everyone and I will be back later this weekend to tell you all about any cool finds I am able to get my hands on at the flea market this weekend!! Have fun, stay safe and shop til ya drop!!!!!