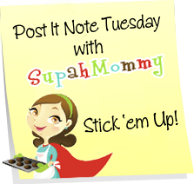 It's Tuesday and that means another daily edition of Post it note Tuesday with
Supah
and her fabulous blog!! So read on and then go visit her to get your own post it notes going!!
It has been a great week so far and I just hope that the rest of the week goes as well as the first few days have!! Hopefully with the little cool down that we had last night everyone will be in a better mood today and willing to work with people!! Cross your fingers for me ladies and I could use some extra good thoughts that my friends get the house they want too!!!
Have a fabulous day everyone and don't forget to go check out Supah's page...she truly is Fabulous!!!