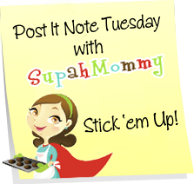 Ok ya'll it is time again for the fun..the fabulous...post it note Tuesday!! *crowd goes wild* Yayyyyyyyy!!!!!
I love this day and you will see why if you follow along and read all my post its every week. It's like a free day to say whatever to whomever and no one gets mad or upset or maybe that's because they never read what I write about them..Haha oh well life isn't always fair right?!! :)
And there ya have it folks!! Truth, love and justice..ok ok maybe just funny, real and crazy...sounds better the first way though doesn't it?!! Now head on over to Suppah's and get in on your own post it notes!! It's so much fun I mean OMG how could you not want to do it..like for real man!! Oops sorry watched 80's movies this weekend...I loooooooooooove 80's movies.. I swear they were the best ever and the ones you can watch over and over...maybe because they are not all just remakes of old movies or maybe because they were fabulous..anywho they rock and we watch them!!! Jealous?!! Get your own and join in on all the 80's retro chique living that is my life!! Yupp I am a little goofy this morning but you know what....it is soooooo the coffee and I am sooooo never giving it up so get over...deal with it....love it...and as always come back tomorrow for more!!! Muah Muah Muah!!!!! Oh I sooo just kissed you all....shhhhhh don't tell Mr. M last time he found out he wouldn't kiss me until I washed my face...yupp..he is crazy like that..but that is why I love him so much because we match!!!! Ok toodles ya'll!!!!