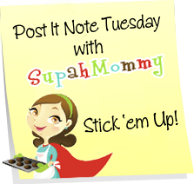 Yay it's that time again!! I love me some post it notes!! You can get in on the fun too. All you have to do is click that button up there and join in with Supah's fabulous follow!!
Yes this was a very fun and very busy weekend for us and it is still going on...can you believe it?!! Oh yes my weekend was stretched all the way out to Tuesday folks..jealous?!!..don't be I will share it all with you one day this week I promise!! But for now it is time for more fabulous post its so let's get going..
So there is this weeks Post it notes and now you can go do your own!! Have a great Tuesday everyone and I will be back tomorrow for more weekend updates.