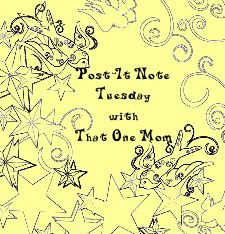 Ok so the weekend was a ton of fun and by Saturday night Mr. M and I thought our feet were literally going to fall off of our bodies!! Can you say Owwww?!!! Yupp it was so worth it though! A lot of hard work went into the Chili challenge and making sure that the girls had a fabulous weekend. Although we did miss out on Titanic because DD2 took off her socks and shoes and played outside for a few hours before Mr. M and I even realized she has taken them off..ughhhhh!! Hopefully we can catch the next one though.
We have another fun filled weekend planned this weekend so cross your fingers that our weather stays nice and we can get out and have a blast. I will update much more tomorrow when I have a little more time that is.
Go click that button up there and get in on the post it note fun you know ya wanta!!!!