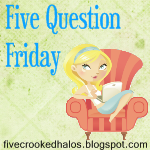 Ok so this week has been a little more boring then usual and I am sorry for that ya'll!! So much has been going on but honestly since Mr. M got home our lives have just gotten crazier. I thought for sure with him home it would be easier and having the help would be awesome but somehow we just fall right back into the madness that is our lives without even blinking. It's puzzling really...no really it's a little freaky deaky!! Sooo anywho I have so much to say and so much to share with you all and I think this weekend just might be my time to get you all caught up on our lives and the things that have come and gone and come back again. I will do my best to try and get as much in as I can and also I know I owe you all some pics of things that I promised waaaaay back when so I will try to ge that done also. For today though just sit back and relax and enjoy today's questions. You might even click that button up there and get in on the fun yourself....DO IT!!!
1. Where did you meet your spouse and did you instantly know it was love?
Haha ok so if you have been following me for a while now you remember my blogs I used to do about traveling back in time and telling you all about how Mr. M and I came to be such a fabulously happily married couple. You can read it here
It really is a funny story but of course it has a beautiful ending..sighhhhhh. Aint love grand?!
2. What is your f
avorite room in your house?
I would have to say that right now my favorite room in the house is my living room/dining room. Now we live in a rather teeny tiny itty bitty house. Well actually it's a teeny tiny itty bitty apartment but for sanity sakes we will call it a house. It makes me feel better let it go ya'll!!! So I tried to make the most of our house and the living/dining room is my favorite part.
3.
Can you wiggle your ears?
Yes I can! My girls think it is hilarious and honestly I think it's a little creepy.
4.
What is your evening ritual?
Evening ritual?!! What is that?! Ok so Mr. M and I finally decide to hit the hay and he gets up and goes to take a shower. I clean everything up in the living room and turn all the lights off. He gets out of the shower and I go take a shower and then I turn the lights out. I guess that is our routine...you know what it seems like I do everything hmmmmm. I am going to have to work on that one..for reals!!
5.
How many hours of sleep do you need to function?
Ok so function would be the key word in that question really. I can get about 6 hours of sleep and make it through the day but I am not so sure I "function" well or even that anyone around me will enjoy my company. Now if I get a full 8 hours of sleep you can bet your behind I am good to go. I will wake up happy, smiling and ready to start a new day. Don't you love it when you wake up and you feel all happy like you just dreamed that you lived in the most beautiful place on earth and were married to the most wonderful man on earth and had the most perfect wonderful kids on earth?! Hmmmmm maybe I need more sleep!!
Have a fabulous weekend everyone and I will be back here tomorrow to fill you all in our lives...no really I will!! Don't judge me?!!!!
Just one of my many European purchases that I love to death and just wanted to share with you all!! Now go get your market bag and fall in love with it as I have.